Old Bryan baby

Everything you need to welcome that long-awaited bundle of joy... from bibs to beautiful custom bedding, enchanting nursery decor, stylish diaper bags, and high end luxurious baby clothing. Hosting a baby shower? We have just the right layette for baby to wear from the hospital to home, or a cuddly toy, or a keepsake blanket - all unique gifts that are both stylish and functional.




ELEGANT BABY


Elegant Baby® understands that babies deserve style just as fresh as they are! Our marvelous collection of baby products is full of bold colors and spectacular designs. From traditional to contemporary, today's baby gift is sure to become tomorrow's treasure.
JELLYCAT

Without a doubt, the world's most sophisticated soft toys. Jellycat uses the most interesting and distinctive materials. These soft toys are hip and humorous and always soft and sumptuous. Jellycat designs are unique with just a hint of "attitude" appealing to all ages.




Children's Books


Unique children's books to spark your child's imagination. The whole family will enjoy choosing from our wide selection.
BELLA NOTTE

Easy care luxury linens in a palette of harmonious custom dyed colors and irresistible textures that are at once inspirational and approachable. This crib sheet partners soothing comfort with beautiful style for baby. Machine washable. An environmentally conscious company, Bella Notte uses low-impact fabric and non-toxic dyes. Every order is custom made.




MELISSA & DOUG


Melissa & Doug is an American manufacturer and purveyor of children's toys. It is especially noted for wooden puzzles and similar types of high-end educational toys. The line also includes favorite sticker pads and more!
BELLA TUNNO

Everything at Bella Tunno is Born to be Bright. Just like your child. He's meant to be a leader, a world-changer. She's going to shine brighter than the brightest star. We feel the same about our products. They are fun, colorful, clever and full of personality. Bella Tunno's fashion-forward tot NECCESSORY line includes clever accessories like happy knees for new crawlers and must have bibs.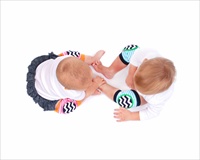 AIDEN & ANAIS


Aiden & Anais are must-have muslin baby products newborns will love, toddlers will enjoy and expecting parents will find essential to have on their baby registry. Our collection includes a unique line of boutique baby products made of cotton muslin, organic muslin and rayon from bamboo fiber muslin.
MILKBARN

Milkbarn is a one-word poem that evokes the essence of who we are. Our roots are in dairy country, the rolling hills north of San Francisco. We're nostalgic, yet modern, country, yet urban, rustic and yet clean, cool and timeless. We love seeing the world through a child's eyes. We love their imaginations, their senses and their wonder - running, romping, daydreaming, gazing at the clouds. That's what Milkbarn is all about.




---